Air India Express aircraft from Dubai to Kozhikode with 191 passengers onboard crashed after overshooting the runway and going into the valley after landing at Karipur Airport.
The incident happened around 7.40 pm on Friday.
20 dead, 123 injured and 13 seriously injured in the incident, according to A. C. Moideen, Minister for Local Self Government, Kerala.
All passengers except for one have been rescued. One passenger is inside the aircraft but he is safe, said MP ET Mohammed Basheer.
The locals in Malappuram along with police, rescued almost everyone from the crash site, The district collector K Gopalakrishnan said the same.
"I heard a huge sound and the alarm. Many passengers we pulled out were maimed and bleeding. The cockpit was worst hit," Shaharbas K, an Aerobridge Technician at Calicut Airport told Maktoob.
"We four were travelling together," says Mohammed Ali, a survivor from the flight.
'It was a normal landing, but the flight didn't stop and fell out. I threw myself out."
Mohammed Ali and two other friends were sitting near the emergency exit.
They were stranded in Dubai after losing out job amidst coronavirus pandemic.
25-year-old Manal Ahmed who was returning home for pregnancy test was killed in the crash. Manal was living with her husband Athif Muhammad Ali in Abu Dhabi, a relative told Maktoob.
At least 12 had taken the flight out of a medical emergency or were pregnant.
Fire tenders and ambulances have been rushed to the spot.
According to Malayalam news TV channels, the aircraft seems to have overshot the tabletop runway and plunged 30 feet down. This resulted in the aircraft splitting with serious damage to the cockpit area.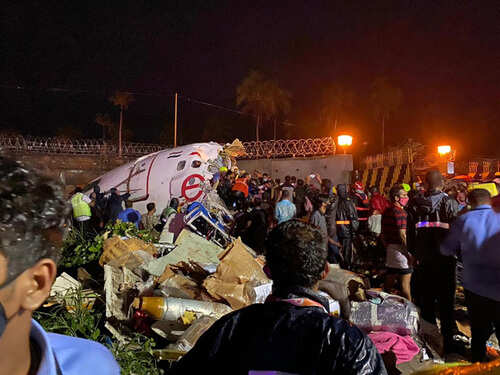 The Directorate General of Civil Aviation (DGCA) has ordered a detailed inquiry into the matter.
PM Modi said: "Pained by the plane accident in Kozhikode. My thoughts are with those who lost their loved ones. May the injured recover at the earliest. Spoke to Kerala CM Pinarayi Vijyan regarding the situation. Authorities are at the spot, providing all assistance to the affected."