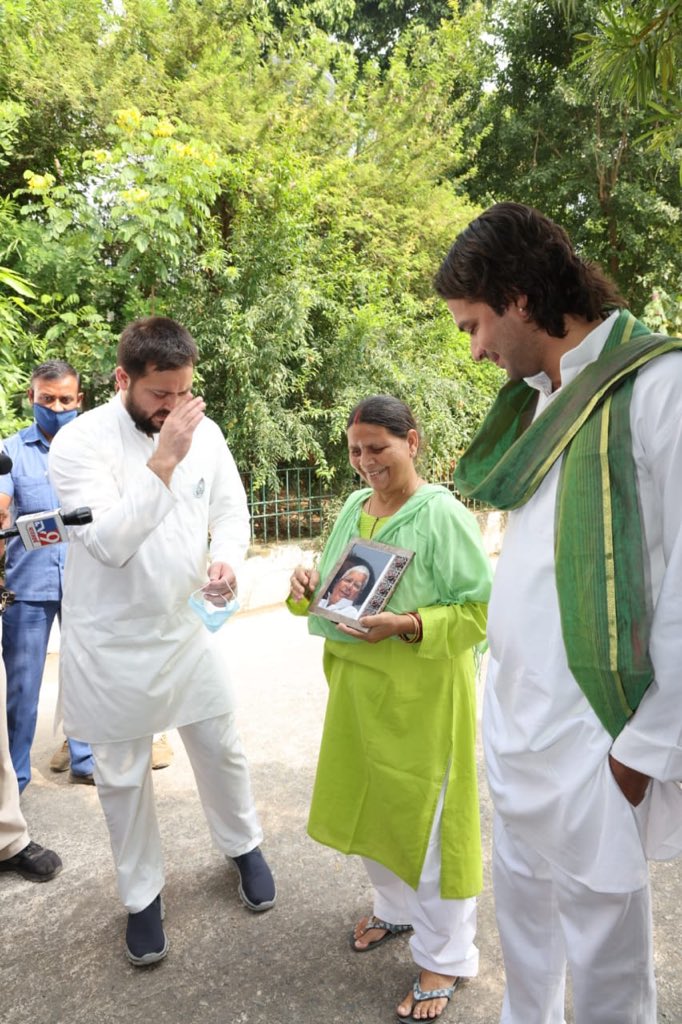 "Tejashwi has the blessings of me and Laluji as parents and entire people of the state. He will register a big win in this election," former Bihar chief minister Rabri Devi said on Wednesday while holding a picture of the jailed president of the Rashtriya Janata Dal and former chief minister of Bihar Lalu Prasad Yadav.
RJD leader and leader of the opposition in the Bihar assembly, Tejashwi Prasad Yadav filed his nomination for upcoming Bihar Assembly elections on Wednesday.
"People of Bihar and everyone in the party is missing Lalu ji," Rabri Devi, wife of Lalu Prasad Yadav told reporters.
The RJD leader filed his nomination from Raghopur constituency in Vaishali district.
The 30-year-old Yadav scion said the Grand Alliance government will sanction one million jobs in the first cabinet meet.
"We will sanction 10 lakh jobs in first cabinet meet if we form govt. These will be government jobs and hence will be permanent in nature. I promise to meet the 'equal pay for equal work' demand of teachers," he said.
Ahead of filing nomination, Tejashwi sought the blessings of his mother Rabri Devi and elder brother and RJD leader Tej Pratap.
Chief Ministerial candidate Yadav also hit back at Union minister and BJP leader Nityanand Rai's comments that is his party comes to power in Bihar, terrorists will escape Kashmir and take shelter in the state.
"Unemployment rate in Bihar is 46.6%. What does he have to say on the terror of unemployment, poverty, starvation & migration? What did their double-engine govt do in 15 years? It's their attempt to divert from the agenda but we want to contest elections on agenda," Yadav said.
He has challenged JD(U) leader and four-time Chief Minister Nitish Kumar from his home turf Nalanda.
"Let him select any one constituency from home district Nalanda and I will contest against him," Yadav added.
Congress, CPI, CPM are part of the Grand Alliance under the leadership of RJD.
Bihar with 243 Assembly seats will go to polls in three phases: October 28, November 3 and November 7. The results will be declared on November 10.