"It was a targeted violence against Muslims," says a group of Supreme Court lawyers who carried out a fact-finding visit to Tripura following the violence unleashed by Hindutva groups against the northeast region's minorities.
A report released by advocates from the SC and human rights activists Ehtesham Hashmi, Amit Srivastav, Ansar Indori, and Mukesh visited the northeastern state, showed that Hindu nationalist groups Bajrang Dal, Vishwa Hindu Parishad, and Hindu Jagran Manch held violent protests and rallies across Tripura following Bangladesh violence.
During four-day-long violence against Muslims, 12 mosques, nine shops, and three houses belonging to Muslims were targeted, according to the fact-finding team.
The lawyers also visited the Chamtila masjid in the Panisagar region and found that the masjid was vandalised. Tripura police had repeatedly claimed that the Chamtila mosque was not vandalised and the reports are 'fake.' 'The claims of Tripura police are wrong," said the fact-finding team.
During the rallies, Hindutva mobs raised slogans insulting Prophet Mohammad and the copies of the Holy Quran were burnt by rioters while attacking mosques and Muslim houses, the report found.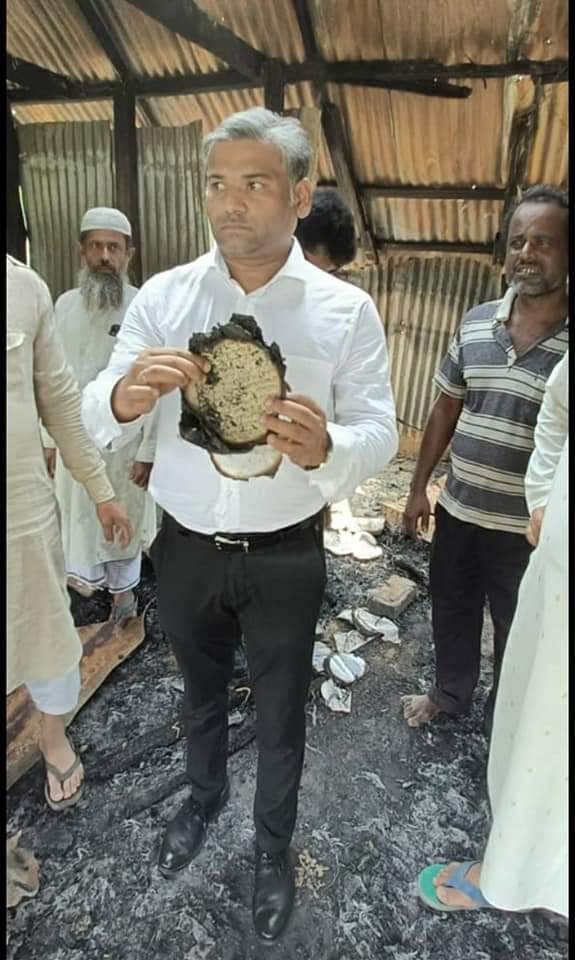 JCBs were seen in the rallies, local villagers told the fact-finding team.
Maktoob reported more than two dozen hate crimes against Muslims including mosque vandalisation, attacks against Muslim houses, shops, and hawkers, molesting Muslim women, and anti-Muslim and genocidal slogans during the rallies.
The latest violence was a "result of the irresponsibility of the administration" and "extremist organisations," lawyers said.
The group Lawyers For Democracy said the assaults on Muslims could have been prevented if the police and administration had taken strict measures.
"Four days before this incident, Muslim organisation Jamaat-E-Ulema (Hind) met with Chief Minister Biplab Kumar Dev and informed him that such incidents could take place and there is a danger to the peace between Hindus and Muslims. Despite this, the government not taking any action is tantamount to sponsoring this violence," said the lawyers in the report.
The report also talks about the police inaction during and after the violence. Many Muslims tried registering a complaint on violence but the police just sent them back, according to the report.
The group called for an inquiry committee headed by a retired High Court judge to be set up to probe the incidents and filing of separate FIR based on the survivors' complaints.
"Due to this incident, all the people whose businesses have suffered financial loss should get appropriate compensation by the State Government and it should be compensated soon so that these innocent people can get their life back on track and their businesses and work can resume smoothly," the report said.