The National Council of Educational Research and Training (NCERT) has dropped content on 2002 Gujarat genocide from the Class 12 Political Science curriculum.
The recent move was a part of a "textbook rationalisation" exercise in view of the COVID-19 pandemic, claimed the authorities.
According to a note on the rationalised content released by the NCERT on Thursday, pages 187-189 on Gujarat genocide are among the removals from the book, Indian Express reported. IE also reported that the pages also carry an image of the front page of the newspaper dated March 1, 2002.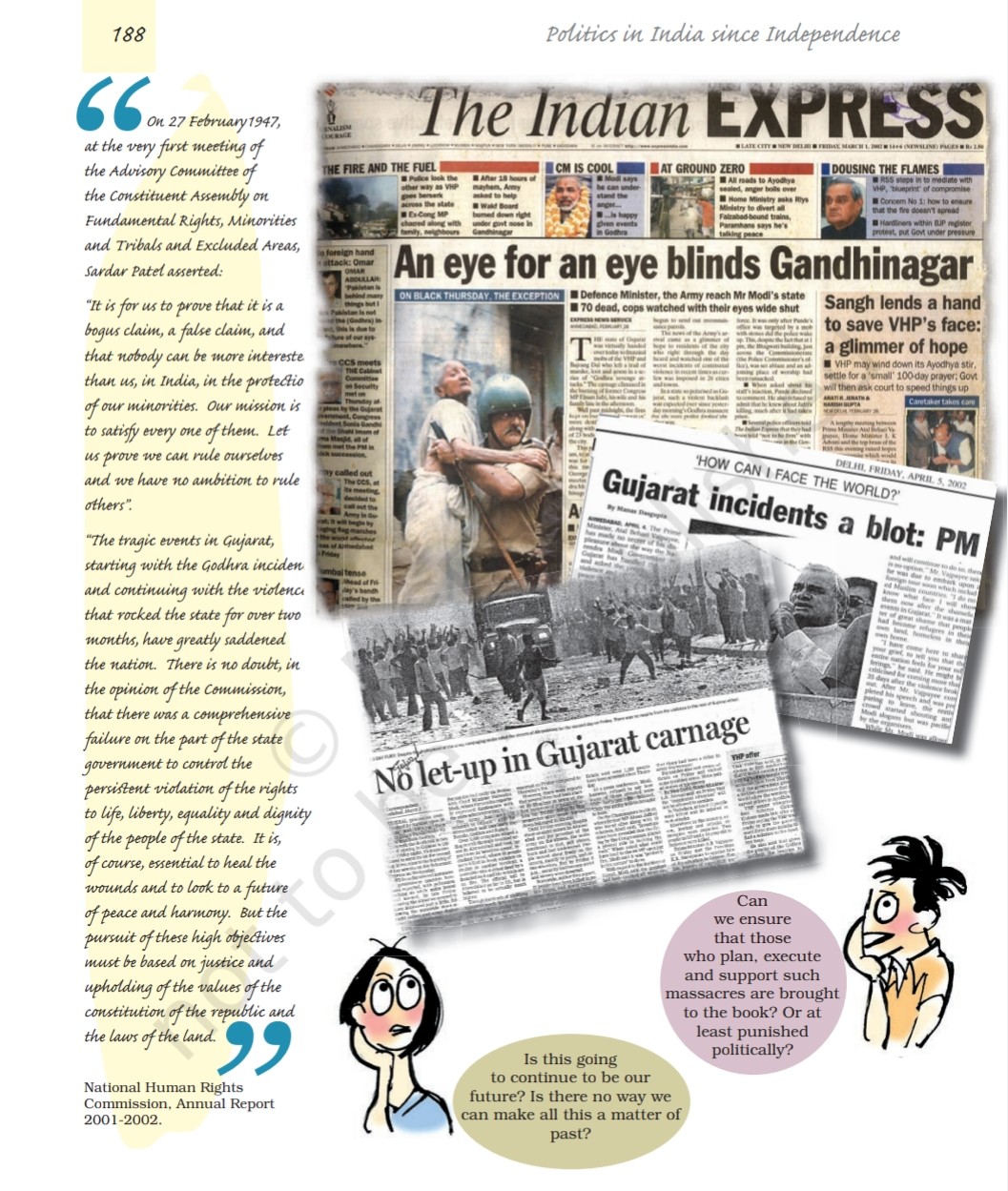 "Gujarat riots show that the government machinery also becomes susceptible to sectarian passions. Instances, like in Gujarat, alert us to dangers involved in using religious sentiments for political purposes. This poses a threat to democratic politics," read one the of the paragraphs which has been removed.
The removed pages also contain a blurb carrying then Prime Minister Atal Bihari Vajpayee's statement that his "one message to the Chief Minister (of Gujarat) is that he should follow 'raj dharma'. "A ruler should not make any discrimination between his subjects on the basis of caste, creed and religion," it quotes Vajpayee as having said.
The NCERT started the rationalisation process last December for 2022-23 academic session and the same in now completed, Hindustan Times reported.
Other topics removed from class 12 syllabus are full chapters on Mughal Courts in History, a poem on 'The Dalit Movement' and a chapter on the Cold War from the political science textbook, according to HT.
20 years of genocide
On 28 February 2002, Hindu mobs who were part of the Vishva Hindu Parishad (VHP), Rashtriya Swayamsevak Sangh (RSS), and Bharatiya Janata Party (BJP), unleashed massive violence against Muslims in Gujarat that went on for weeks killing thousands of Muslims.
About 3000 Muslims are killed. Some 20,000 Muslim homes and businesses and 360 places of worship are destroyed, and roughly 150,000 people are displaced.
The massacre was unleashed after the burning of 59 Karsevaks on board the Sabarmati Express in Godhra which was probed and declared an accident.
Narendra Modi, the current Prime Minister of India, was accused of initiating and condoning the violence, instructing police to stand by and let Hindu mobs do acts of violence against Muslims.
Strong evidence links the Narendra Modi administration in Gujarat to the carefully orchestrated anti-Muslim attacks. Hindu mobs had detailed lists of Muslim residents and businesses, and violence occurred within view of police stations. An independent media, Tehelka, used hidden cameras to capture some of the accused speaking openly of how the attacks had Modi's blessings.