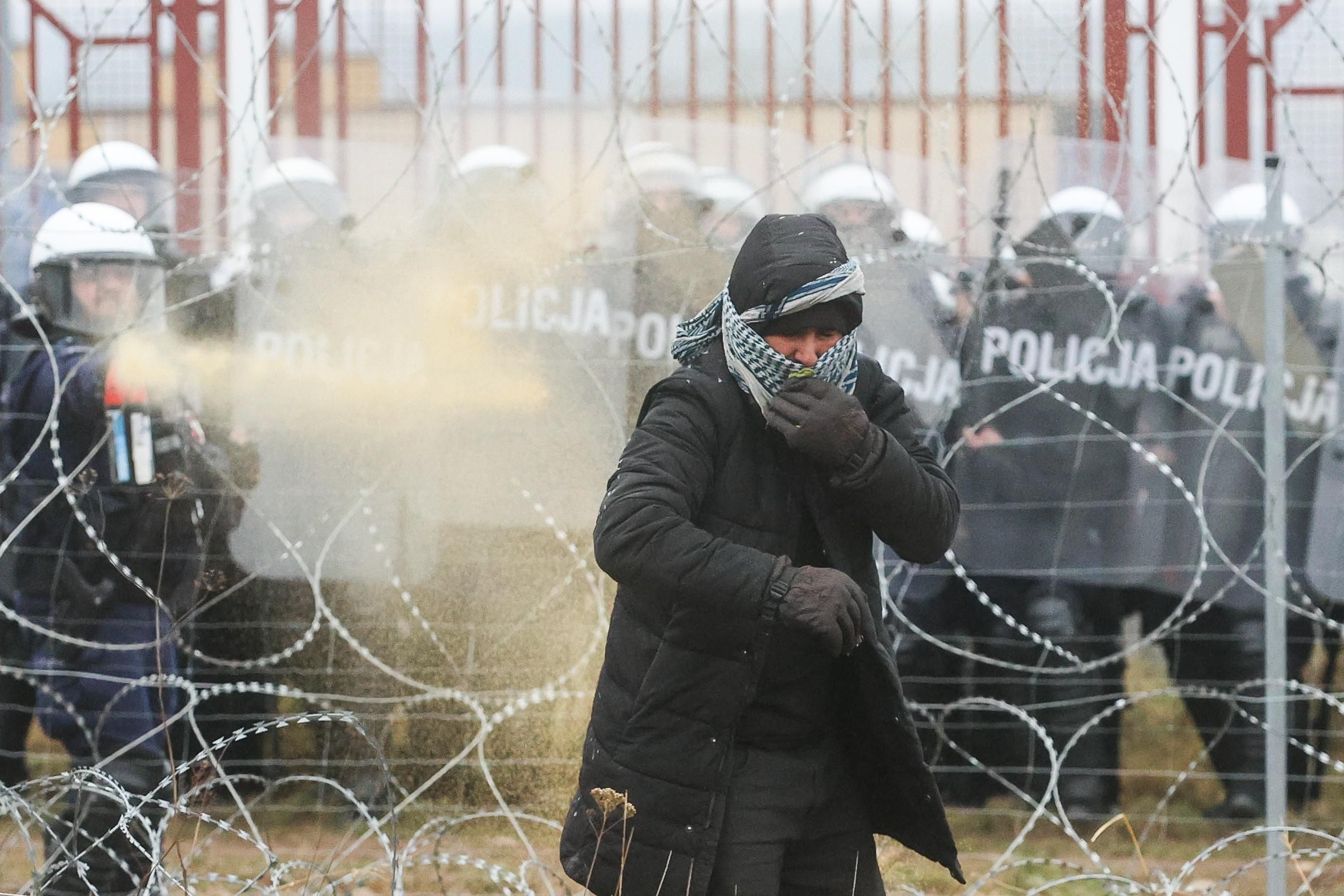 A group of migrants trapped in freezing conditions at the Belarus-Poland border faced water cannons and tear gas by Polish border guards on Tuesday amid an ongoing humanitarian and political crisis.
Polish forces put the blame for the violence, which took place near the Bruzgi-Kuznica border crossing, on some of the thousands of migrants throwing objects.
"Migrants attacked our soldiers and officers with rocks and are trying to destroy the fence and cross into Poland," Poland's defence ministry said Tuesday. "Our forces used tear gas to quell the migrants' aggression."
The migrants, many of them refugees fleeing war-torn nations in the Middle East, are trying to enter the E.U. at its eastern edge.
Western powers have blamed Belarus' authoritarian President Alexander Lukashenko's government of orchestrating the crisis—retaliation, as Al Jazeera put it, "for E.U. sanctions imposed on the leader after his disputed re-election last year and his crackdown on mass pro-democracy protests."
The Polish government, the New York Times reported, has banned journalists from the border and "has come under criticism from humanitarian organizations for a legal amendment it passed in October that allows migrants to be pushed back at the border and for asylum claims made by those who entered illegally to be ignored."
For those at the makeshift camp, it's a life-or-death situation. "Most are fleeing conflict, poverty, or hopelessness in Syria and Iraq and hope to reach western Europe," the Associated Press reported, noting the deaths of 11 people so far.
"Die here or die in my country; a lot of us have the same situation," said one Iraqi-Kurdish migrant.
According to BBC News:
The migrants, including children, have been living in makeshift camps in freezing conditions just inside Belarus. In recent days, thousands have converged on a crossing at Kuznica, south of Grodno in northwest Belarus.

On Monday, many of those migrants burst through a fence and gathered at a crossing on the Belarusian side of the border. They were blocked by Polish troops and a tense stand-off ensued.

By Tuesday morning, Poland's defense ministry said its forces had responded to migrants attacking a border fence at Kuznica.
The deepening tensions triggered the E.U. to ready a new round of sanctions targeting Lukashenko's government. E.U. foreign policy chief Josep Borrell said Monday they would target "people, airlines, travel agencies and everybody involved on this illegal push of migrants on our borders."
The situation elicited strong criticism last week from human rights defenders.
Michelle Bachelet, the United Nations High Commissioner for Human Rights, called the crisis "intolerable" and said "the strong security-focused and politically charged responses on both sides—including through the increased deployment of troops—and accompanying inflammatory rhetoric, serve only to exacerbate the vulnerability and risks that migrants and refugees face."
The Norwegian Refugee Council's Secretary General Jan Egeland expressed similar criticism.
He called it "shocking to witness Europe's inability to properly handle such a low number of migrants stranded at the Poland-Belarus border."
In addition, said Egeland, Belarus "using migrants and refugees to achieve political ends is equally outrageous. Vulnerable people are not chess pawns to be used in a geopolitical struggle."
"But," he added, "this does not in any way free Europe from its responsibility to ensure that people turning up on our borders are allowed to seek asylum and are treated humanely."