The Nagaland Police has lodged an FIR against the paramilitary forces after 13 villagers were shot and killed by soldiers, who thought the villagers were "militants", in the northeast state.
Since the counter-insurgency operation was carried out without any intimation/requisition for local police guide, the intention of the security forces was to "murder and injure civilians," states FIR.
"At around 1530 hours, coal mine labourers of Oting village were returning to their native village Oting from Tiru in a vehicle Bolero pick up. On reaching at Longkhao between Upper Tiru and Oting village, security forces blankly opened fire at the vehicle without any provocation resulting to the killing of many Oting villagers and seriously injuring many others (sic)," read the FIR against 21st Para Military Force.
It went on to say: "It is to be noted that at the time of incident there was no police guide nor security forces did make requisition to police station to provide police guide for their operation. Hence it is obvious that the intention of security forces is to murder and injure civilians."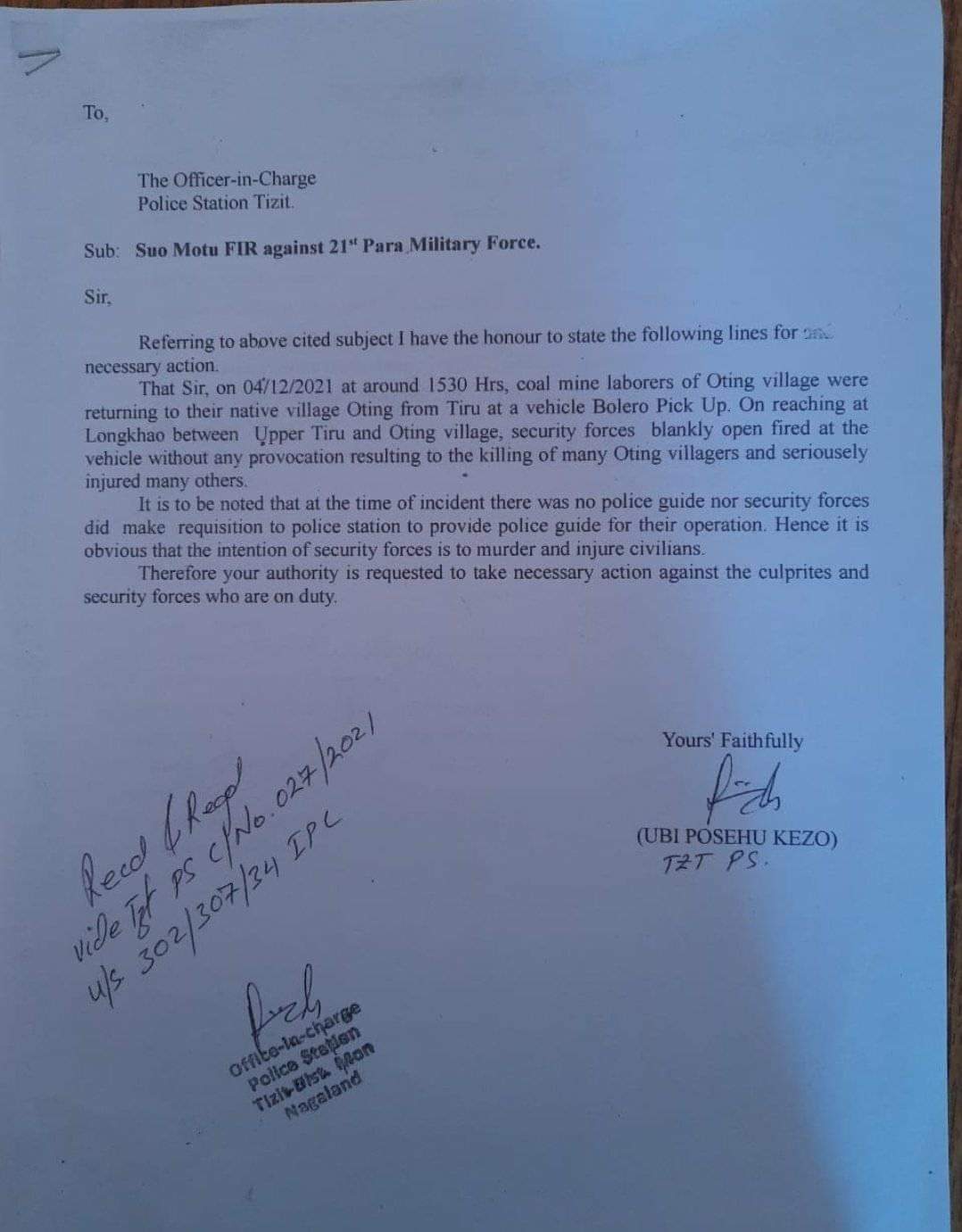 Meanwhile, Indian Army's 3 Corps based in Dimapur has begun an internal inquiry headed by a Major General rank officer in connection with the Nagaland killings.
13 civilians were killed in open firing by the Indian Army in Nagaland's Oting village on Saturday. At least six people were killed after security forces fired at a truck carrying coal-mine workers, who were mistaken for "militants". Seven more civilians were killed after local residents clashed with the security forces later on Saturday evening.
The leaders of the Konyak Union, representing the dominant Konyak community, said the deceased were some labourers who were returning home to Oting village in a pick-up van from a coal mine in Tiru area 15 km away.
"The armed forces ambushed their vehicle and killed six on the spot. Seven locals died later. At least 11 others are battling injuries while two are missing," a Konyak union member said.
A soldier was also killed in subsequent clashes with villagers.
The Assam Rifles, which undertook the operation, has officially expressed regret and has ordered an inquiry.
A special investigations team comprising of five police officials has been formed under the supervision of Sandeep M Tamgadge, the additional director general of police in Nagaland.
In outrage, villagers surrounded security forces and have burned army vehicles. A protester has been killed in open firing.
A dawn to desk bandh has been called by Eastern Nagaland Peoples' Organisation (ENPO) and the Naga Students' Federation (NSF) across the state today.