Actor-turned-politician Kamal Haasan's party Makkal Needhi Maiam (MNM) has forged an alliance with two other parties, All India Samathuva Makkal Katchi (AISMK) and Indhiya Jananayaga Katchi (IJK), and has finalised the seat-sharing arrangement for the upcoming Assembly elections in Tamil Nadu.
MNM will contest on 154 out of 234 assembly seats in Tamil Nadu polls.
The remaining 80 seats in the 234-member Assembly has been allotted to two of its allies which will contest 40 seats each.
The constituencies allotted among them are yet to be finalised.
General Secretary of Haasan's party CK Kumaravel, AISMK founder Sarathkumar and IJK leader Ravi Pachamuthu signed the agreement on Monday.
"The parties have committed to the common goal of transforming Tamil Nadu by fulfilling the long-pending aspirations of the people," read a document released by MNM.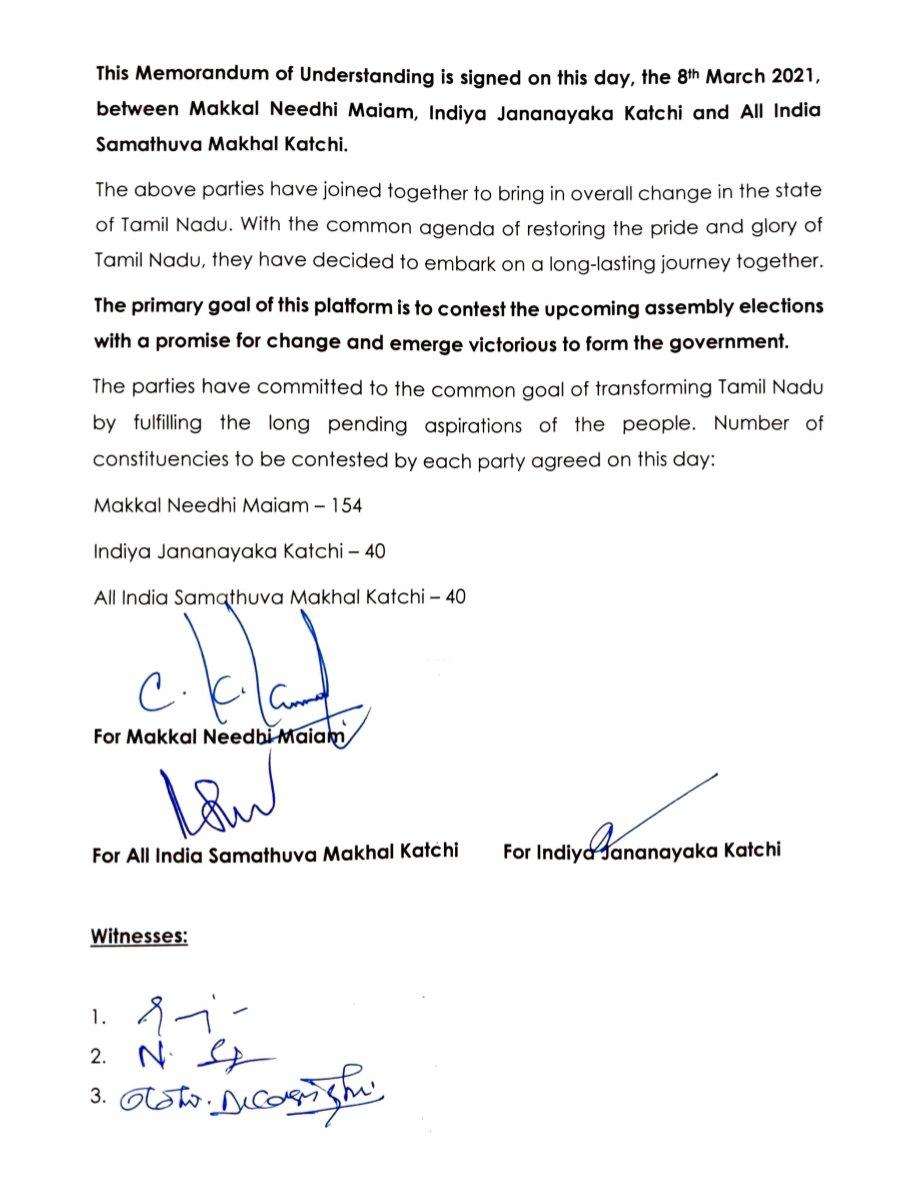 "With the common agenda of restoring the pride and glory of Tamil Nadu, they have decided to embark on a long-lasting journey together."
Sources say Kamal Haasan will be the alliance's chief ministerial candidate.
The MNM which was founded by Kamal Haasan at Madurai on 21 February 2018, had secured about 4% votes in 2019 Lok Sabha polls.
The AISMK was founded by actor R. Sarathkumar. Kumar was a part of DMK in his early political career and then joined AIADMK. . Later he quit AIADMK and started his own political party, the AISMK on 31 August 2007. In the 2011 assembly elections, it contested as a part of the AIADMK alliance and won in two assembly constituencies – Tenkasi and Nanguneri.
Indhiya Jananayaga Katchi (IJK) was founded by T. R. Pachamuthu, an academician and the founder of the SRM Group of institutions. IJK contested in the 2014 General Elections and 2016 assembly elections through an alliance with the BJP-led NDA but couldn't register a single victory. It contested in the 2019 General Elections through an alliance with the DMK-led UPA. R. Pachamuthu alias T.R.Paarivendhar contested in Perambalur and won with a margin of 4,03,518 votes.
The actor turned politician Kamal Hassan had already launched his electoral campaign and trained guns at the ruling AIADMK and BJP saying the AIADMK government's promise of jobs to youth has remained far from reality while the BJP thinks that Tamils could be convinced to vote for by "tweaking" Tamil pride.
"Tamils are not for sale, their votes are also not for sale," Kamal Hassan said and urged the people to give a mandate to his party to establish a corruption-free government.