A brief note by Land Conflict Watch on the much-criticised move of BJP controlled North Delhi Municipal Corporation's "demolition drive" in Delhi's Jahangirpuri. Land Conflict Watch is an independent network of researchers studying land conflicts, climate change and natural resource governance in India.
On April 20, after letter from Delhi BJP chief demanding to bulldoze illegal encroachments of rioters, the North Delhi Municipal Corporation undertook an "anti-encroachment" eviction drive in Jahangirpuri demolishing homes, shops and businesses, mostly belonging to Muslims.
Four days ago on April 16, a shobha yatra had been organised to mark Hanuman Jayanti in Jahangirpuri resulting in a communal flare-up. The violence and subsequent demolition drive was a repeat of two earlier such episodes in MP's Khargone and Gujarat's Khambhat.
About an hour after the demolitions started, the Supreme Court ruled that the status quo be maintained. But the demolitions continued for some time despite the stay order. The demolitions and evictions yesterday were in violation of established law and principles.
None of the applicable state laws (Delhi Municipal Corporation Act, 1957/ Delhi Development Authority Act, 1957) allow the govt agency to demolish buildings/ structures without giving an advance notice to the affected parties.
In 2017, the Supreme Court in Sudama Singh and Ors. v. Deepak Spolia and Ors. upheld that before any eviction by the state, it must conduct a survey to identify people eligible for rehabilitation, and carry out a meaningful rehabilitation of each person.
The decision upheld relied on the UN Special Rapporteur's Basic Principles and Guidelines on Development-based Evictions and Displacement.
The guidelines include a requirement for authorities to demonstrate that eviction is unavoidable. They also state that evictions should not result in individuals being rendered homeless or vulnerable to the violation of other human rights.
In fact, the lack of advance notice was the primary contention raised by Sr. Adv. Dushyant Dave before the Supreme Court yesterday. Without a reasonable opportunity to be heard, the rights of the victims under Article 14 of the Constitution are violated.
Any departure from the due process of law results in an unjust, unfair, and unreasonable decision. The apex court has held in the past that such demolitions may lead to deprivation of one's right to live with dignity under Article 21 (most prominently in Olga Tellis v BMC).
The targeted demolition drive in Jahangirpuri raised questions about illegal and unauthorised settlements across Delhi, where only 23.7% of the total city population lives in planned colonies. And the rest live in slums, unplanned and/or unauthorised settlements.
A 2019 Ministry of Housing and Urban Affairs notification lists 1,797 unauthorised colonies in Delhi. The list includes 69 affluent class societies such as Sainik Farms, Freedom Fighters Enclave, Vasant Kunj Enclave, Saidul Ajab extension, and Chattarpur enclave among others.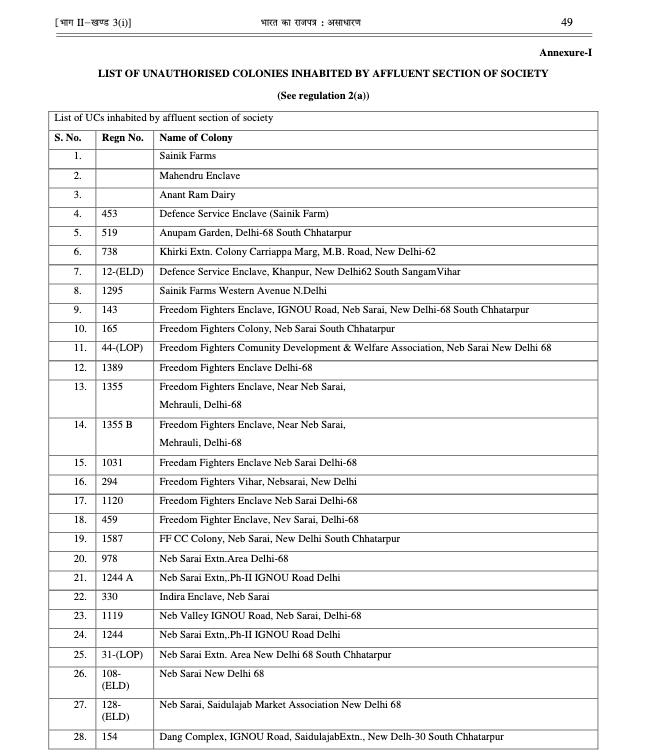 Political parties have campaigned to regularise unauthorised colonies for decades. In 2020, before the Delhi assembly elections, the central govt announced PM-UDAY, a scheme to confer property rights to residents of unauthorised colonies.
Over 1,600 applications of unauthorised colonies are pending regularisation. As per the Master Plan of Delhi 2041, such areas are seen as those with the potential for providing affordable housing and must be reinforced for the same reason.
The act of demolition by the agencies yesterday in Jahangirpuri can be better understood in the context of these laws, regulations, and data about unauthorised colonies and encroachment in Delhi.