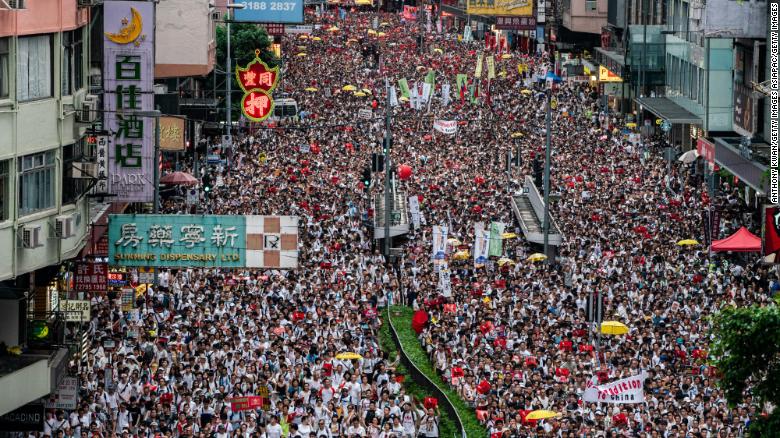 HONG KONG – Hong Kong police tightened security ahead of possible clashes on Thursday between masked pro-democracy protesters and Halloween fancy-dress clubbers as the Chinese-ruled city confirmed it was in economic recession after months of unrest and trade tensions.
The demonstrators, many of whom still wear now-illegal face masks, are planning to march from Victoria Park in the Causeway Bay shopping district to the hilly, narrow streets of the Lan Kwai Fong bar district above Central, the scene of a deadly New Year's stampede nearly 27 years ago.
Police have banned the march and said they would close roads, including the short Lan Kwai Fong street itself, from early afternoon until Friday morning to "facilitate the public celebrating." It was not immediately clear how that would work.
It is the first time protesters have targeted the party district in five months of increasingly violent, anti-government unrest. Typically, weekends and celebrations like Halloween see hordes of revelers spilling out of the bars and clubs.
A stampede during New Year celebrations at the end of 1992, when thousands had gathered on streets slippery with beer and champagne, killed at least 20 people and wounded scores.
Police, who have been warning for days of the threat to public order and safety, are planning to deploy 3,000 riot officers and three water cannon outside government offices near the route, according to media.
Hong Kong, as widely expected, slid into recession for the first time since the global financial crisis in the third quarter, advance estimates confirmed on Thursday, weighed down by increasingly violent anti-government protests and the protracted U.S.-China trade war.
The economy shrank 3.2% in July-September from the preceding period, contracting for a second straight quarter and meeting the technical definition of a recession. The readings were the weakest for the Asian financial hub since 2008/2009.
(Reuters)