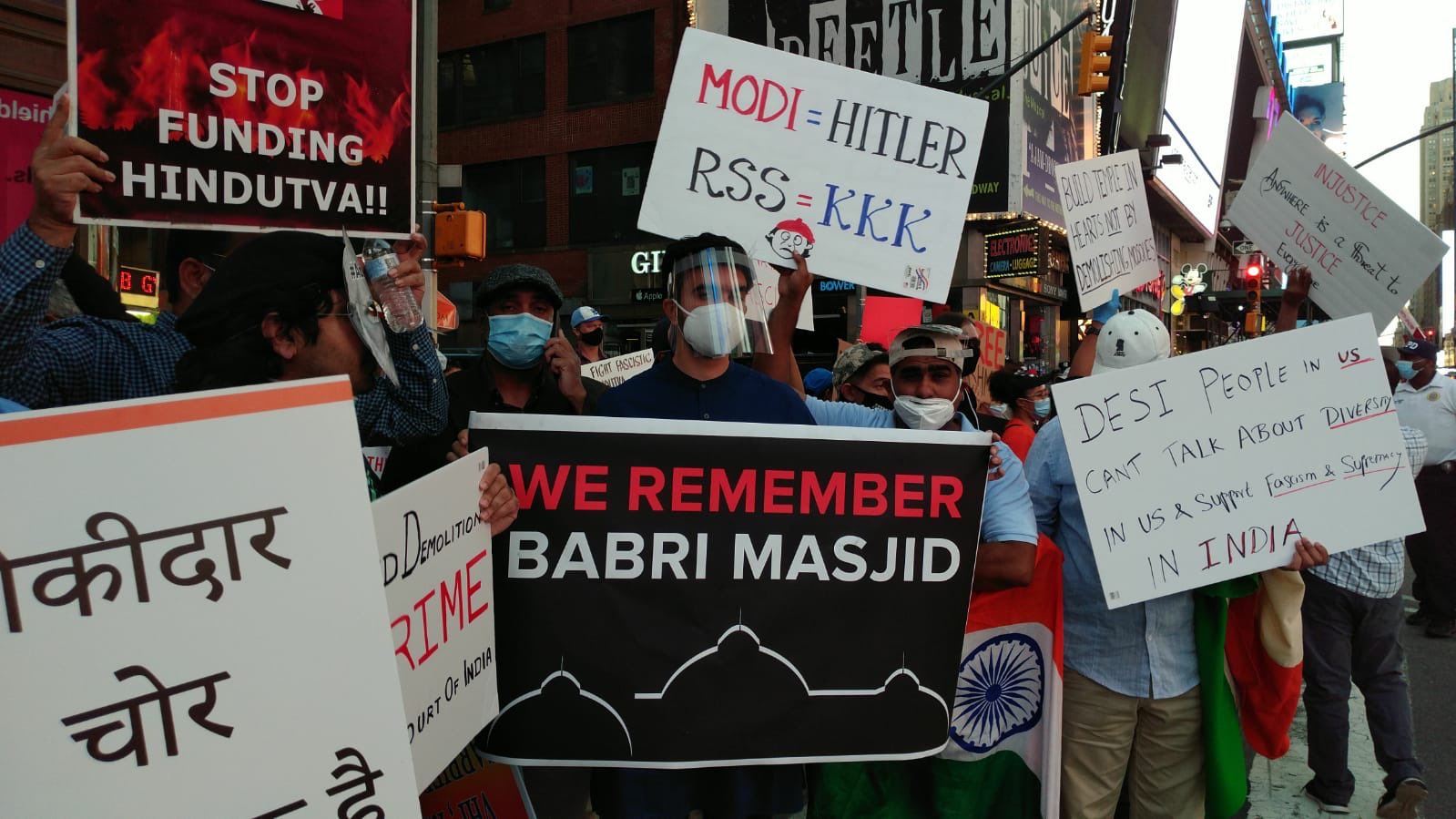 The "Coalition to Stop Genocide in India", a broad coalition of Indian Americans and the United States-based civil rights organizations and activists organized a massive rally at Times Square, in order to protest the celebration of the destruction of the Babri Mosque in India on Wednesday.
The celebrations were organized by an entity that calls itself the American Indian Public Affairs Committee (AIPAC), a front for several Hindu nationalist organizations in the US.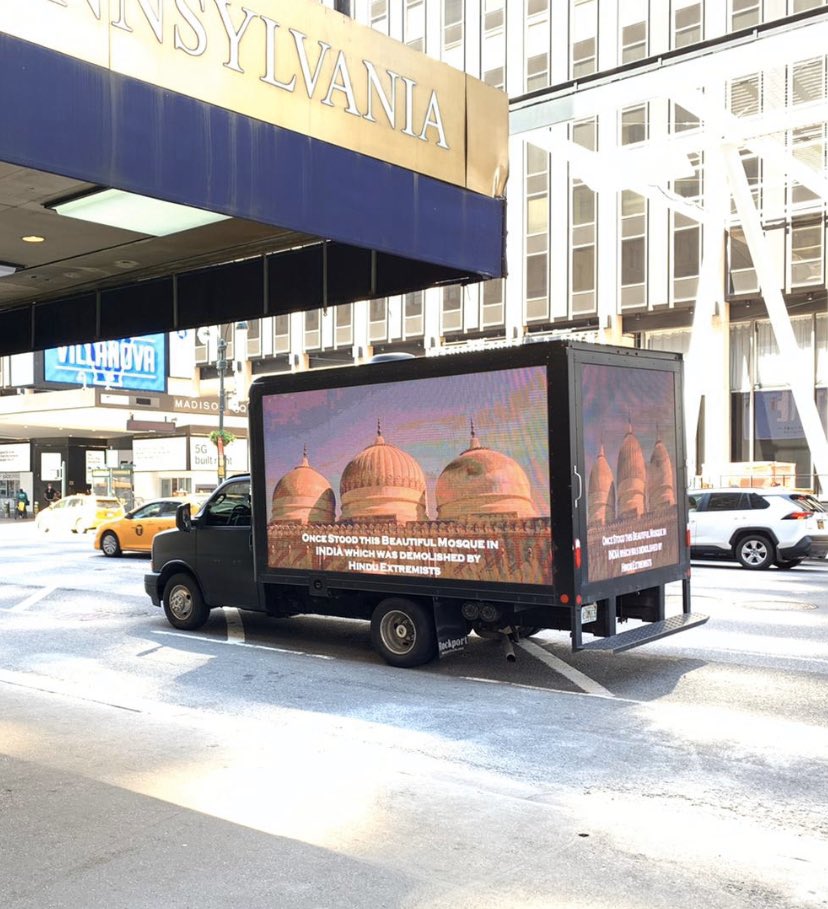 Protesters in large numbers held placards and chanted slogans to highlight massive human rights abuses in India, by India's ruling Bharatiya Janata Party (BJP) led by Prime Minister Narendra Modi.
"There is no doubt that Ram is a revered figure in Hinduism, and respect for all religions is part of our commitment to pluralism," said Mr. Jawad Mohammed, General Secretary of the Indian American Muslim Council (IAMC). "However, people's reverence for Ram has been manipulated in order to serve a vile and hateful agenda whose evil fruits are evident not only across India but now increasingly in the US as well," added Mr. Mohammed.
"We learn in the Ramayana that Lord Rama's birthplace is Ayodhya. However, our scripture does not specify where in Ayodhya Lord Rama was born. The reality is that the Ram Temple issue was leveraged by Hindutva forces to polarize Indian society in a destructive campaign that has resulted in untold human suffering and that continues to this day."said Ms. Sunita Vishwanath, President of Hindus for Human Right.
"Sadly, far-right extremists in both India and the United States have especially taken to demonizing and denigrating Muslims. I condemn any attack on an individual or group because of their faith and stand with my Muslim siblings here in my district and in India as they fight for dignity and human rights," said New York City Councilmember Daniel Dromm.
"I also thank all the Hindus and others who have taken a stand against dog-whistle propaganda cloaked as cultural celebrations," added Mr. Dromm.  
"Islamophobia has escalated to the level of ethnic cleansing in numerous countries, including India. From lynchings, to pogroms, to the cultural genocide exemplified by the establishment of a temple on the site of a demolished mosque, anti-Muslim bigotry is government policy in India," said Mr. Nihad Awad National Executive Director of the Council on American Islamic Relations (CAIR). "The Muslim world and the international community must unite in opposition to the far-right Modi government before its fascist, Nazi-inspired ideology causes further damage to religious minorities," Mr. Awad added.
Mr. Brad Lander, another New York City councilmember said, "We all have a responsibility for speaking out against Islamophobia, whether it comes from our country, or even our own community." Mr. Lander further added, "As a New Yorker, and as a progressive Jew, I stand with our Muslim neighbors, here in NYC and those in Kashmir and throughout India who are facing nationalist and Islamophobic hatred and violence." 
"Political Hinduism is NOT a religious issue, it's a class issue and final victory is possible by uniting the workers, peasants and the socially oppressed sections. Today's protest in New York has brought various sections together to challenge the Hindutva project" said S. Karthikeyan of Ambedkar King Study Circle (AKSC).
"The celebration of Ram temple by the Hindutva brigade and its Indian-American followers is a celebration of power: the power to hate and hurt with impunity, to  aggressively gloat over Indian Muslims and others who cherish our pluralistic society" said Ms. Ania of Coalition against Fascism in India (CAFI). "Choosing August 5 to celebrate is a new act of aggression against the Kashmiris. We reject this cynical use of religion to entrench hate and kill India democracy" added Ms. Ania.
The Coalition to Stop Genocide in India includes dozens of organizations, including Indian American Muslim Council (IAMC), The Council on American-Islamic Relations (CAIR), Islamic Soceity of North America (ISNA), Coalition Against Fascism in India, Hindus for Human Rights (HfHR), Boston Coalition, Organization for Minorities in India (OFMI), South Asia Solidarity Initiative, Ambedkar Association of North America (AANA), Ambedkar King Study Circle (AKSC), Council for Minority Rights in India (CMRI), North American Indian Muslim Association (NAIMA), Ambedkar International Mission, Coalition of Seattle Indian Americans, Guru Ravidas Sabha, Periyar International USA, Ambedkar International Mission Society, Canada, Students Against Hindutva Ideology (SAHI) and International Soceity for Peace and Justice.