FIR has been filed against Zee News' TV Anchor Sudhir Chaudhary by the Kerala Police under nonbailable sections for offending the Islam and Muslims.
Sudhir Chaudhary who was widely criticized for spreading Islamophobia through TV debates is the editor-in-chief of Zee News and hosts the prime-time show Daily News And Analysis on Zee News.
 "On March 11, 2020, The accused presented a program named 'DNA', that is offending the Muslim religion," FIR reads.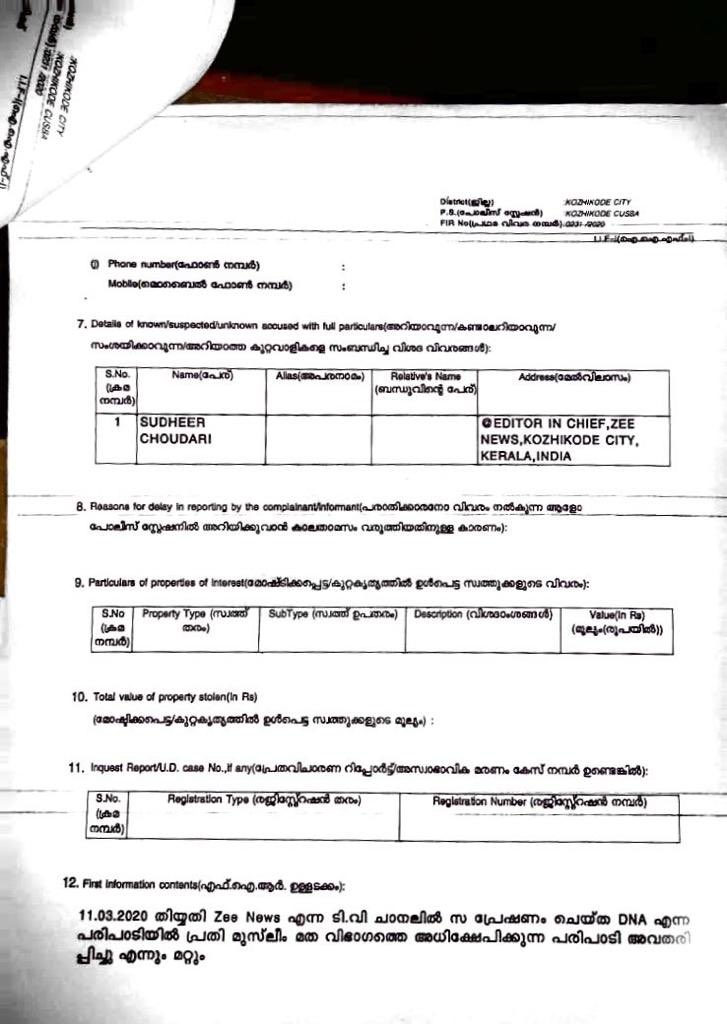 The highlight of the mentioned TV program on March 11 was the "jihad chart". In his show, he explained to his viewers what the chart detailed: "types of jihad".
In the show, the Zee News' Editor-in-chief had explained stating that there are two types of Jihad – Hard Jihad and Soft Jihad. "Hard Jihad includes Population Jihad, Love Jihad, Land Jihad, Education Jihad, Victim Jihad and Direct Jihad, while Soft Jihad includes Economic Jihad, History Jihad, Media Jihad, Movies and Songs Jihad and Secular Jihad," Sudhir Chaudhary had explained in his hour-long show.
These ridiculous allegations were cheerfully received on the internet by Hindutva supporters, including Bharatiya Janata Party leaders and MLAs.
Chaudhary, who has been spewing venom at Muslims for some time, in his hour-long DNA program on 24th February 2020 mentioned the anti-Muslim pogrom of NorthEast Delhi at the end of the program as a passing thought after analyzing the US President's visit to India. Chaudhary attributed the violence as the work of the 'Tukde Tukde Gang'. He reported that on previous occasions when Indo-US ties were being strengthened Pakistan would orchestrate violence to discredit India; however, now the 'Tukde Tukde Gang' was doing the same inside the country.