Grant Duncan, Massey University
Jacinda Ardern's resignation as prime minister in January was a courageous and pragmatic decision for herself, her family and her party. Although many said she'd done a great job as leader, she rightly reminded us that a great leader is "one who knows when it's time to go".
Since hitting stellar heights in mid-2020, Ardern's Labour Party had dropped significantly in the polls and was trailing the opposition National Party throughout 2022. The "Jacinda effect" had switched from being a uniting force to a polarising one. With an election coming in October, it was time for a change.
Her decision to stand down was as politically astute and timely as her elevation to leader of the Labour Party in August 2017. After all, Labour is now ahead of National in recent polls.
By the time she gives her valedictory statement to parliament later today, Ardern will have served as an MP for nearly 15 years. While the intervening period has undoubtedly changed her, she remains in many ways the same person she was as a novice backbencher.
In her maiden speech to the House of Representatives in 2008, she expressed the small-town values that got her started:
Some people have asked me whether I am a radical. My answer to that question is very simple: I am from Morrinsville. Where I come from a radical is someone who chooses to drive a Toyota rather than a Holden or a Ford.
She described herself as a social democrat who believed in human rights, social justice, equality and democracy. She spoke especially about work, education, community and the reduction of poverty – child poverty in particular.
All fine aspirations. But back then, Ardern's Labour Party was looking at nine long years in opposition after Helen Clark's three-term government lost power. Unable to break the run National's John Key enjoyed as prime minister, Labour went through one leader after another while Ardern rose through the ranks.
In mid-2017, despite a mood for change, it still looked like the election wouldn't go well for Labour, at the time polling down around 25%. Then, at the beginning of August, Andrew Little handed leadership of the party to Ardern. With just seven weeks until the election, it was either an inspired move or the ultimate hospital pass.
As history shows, however, Ardern's elevation immediately energised Labour's campaign. It also drew international attention to the New Zealand election, as what became known as "Jacindamania" changed the mood on the streets and in the media.
Accidents of history
Critics sometimes labelled Ardern the "accidental prime minister" – a rookie "appointed" by Winston Peters, whose New Zealand First party held the balance of power in post-election negotiations. Conventional wisdom has it that Ardern simply offered Peters a better coalition deal, despite her party having won fewer seats than National.
But Peters gave those critics some more ammunition during a recent TV interview. He appeared to reveal that New Zealand First was forced to choose coalition with Labour when then-National leader Bill English alerted him to a potential leadership coup by Judith Collins.
According to Peters, English had assured him Collins didn't have the numbers to pull it off. (Collins would eventually become National leader, of course, losing spectacularly to Ardern at the 2020 election.)
This sliding-doors version of events may be conjecture. But Peters can't have forgotten how Jenny Shipley had rolled previous National leader and prime minister Jim Bolger in 1997. That ultimately led to the breakup of the National-New Zealand First coalition in which Peters had been deputy prime minister and treasurer.
Perhaps, then, we have Collins to thank for Ardern's elevation to the top job. We'll probably never know.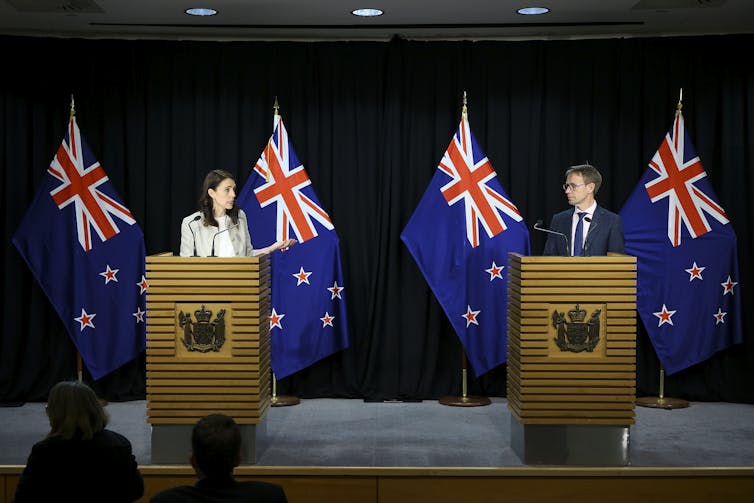 Rise and fall
The "Jacinda effect" wasn't a flash in the pan, however. Labour's election support went from 25% in 2014 to 37% in 2017, and then to an extraordinary 50% in 2020. Coming on the back of Ardern's exemplary leadership through the COVID pandemic, it was an unprecedented result under the country's proportional MMP system.
Her belief in "kindness" as a political force appeared to have been vindicated, if not for long. While New Zealand eventually recorded the world's lowest excess mortality rate during the pandemic, this success was far from cost-free. In particular, there was a human and political price to pay for the lockdowns and border closures.
Businesses struggled, many New Zealanders abroad couldn't return, and many resisted the pressure to be vaccinated. No nation escaped unscathed, and in New Zealand resistance to vaccine mandates boiled over on the grounds of parliament in early 2022.
Some protesters were angered by Ardern's trademark empathy and kindness, which they now perceived as a false front. Due to the extremist elements among the protests, she refused to address them directly.
Ardern's positive leadership reputation was earned on her responses to tragedies: the Christchurch terror attack, the Whakaari-White Island eruption, and the pandemic. But no sane politician would have welcomed such crises.
Nor were they part of Ardern's social democratic plan. In fact, they hindered it. She did a lot for child poverty and family incomes, in line with her core values. But those achievements were overshadowed by a pandemic response that upended her government's fiscal policy.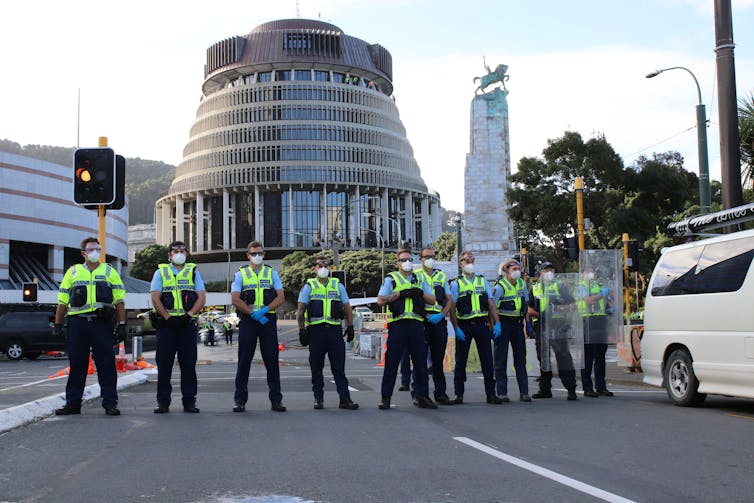 Promise unfulfilled
So, if catastrophes were the making of Jacinda's career as prime minister, they were also the breaking of it. From her first campaign speech in August 2017, she had created a sense of promise that her government was ultimately unable to fulfil.
She claimed climate change was her generation's "nuclear-free moment", and that a decent, affordable home was everyone's right. It sounded great, but on both counts progress fell short of expectation and need. Later, she would capitulate on a full capital gains tax to help solve the housing crisis. That allowed coalition partner Peters to claim credit for the backdown.
But it would also be wrong if the lasting narrative was one of failure to deliver. Her government's Child Poverty Reduction Act now mandates reporting on progress towards poverty targets, bringing the problem into the engine room of fiscal policy. The Healthy School Lunches program helped reduce food insecurity.
Future governments will encounter strong political resistance if they try to rescind those measures.
Even those tireless advocates for children, the Child Poverty Action Group (CPAG), gave Ardern qualified approval following her resignation – although the truce didn't last long. CPAG was back on the attack when Stats NZ reported "child poverty rates for the year ended June 2022 were unchanged compared with the previous year".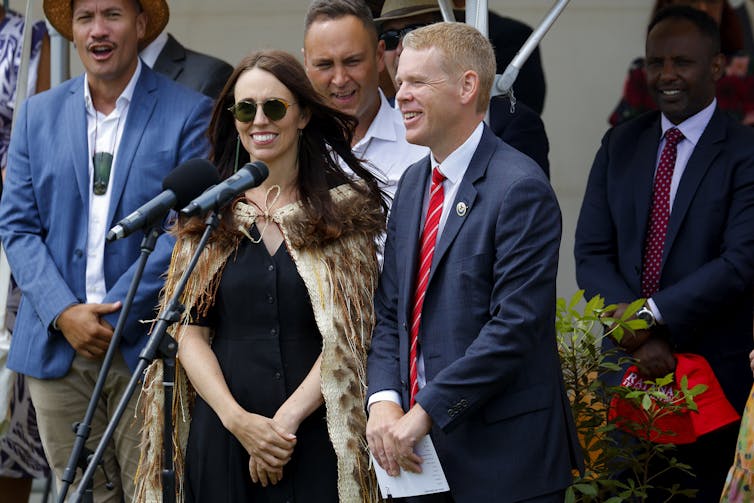 A complex legacy
In the end, Ardern did not use the single-party majority she won in 2020 to fix the things she'd wanted to fix. When her government saw a problem, its default setting was to say "let's centralise it" – as if that would do. Good social democratic government was sidelined by bureaucratic shakeups in healthcare, education and (before the plan was cancelled) public broadcasting.
An elaborate structural reform of water services became mired in controversy over Māori co-governance and loss of local democratic control. The sixth Labour government's only potentially historic contribution to the development of New Zealand's social security system – a proposed unemployment insurance scheme – was quietly shelved after criticism from both left and right.
So, will Ardern be remembered as one the great Labour leaders? To do so would put her in the pantheon of Michael Joseph Savage and Peter Fraser, who achieved so much in social security, healthcare and education, and who led the country through the second world war.
It would also place her next to Norman Kirk, whose 1972-75 government universalised accident compensation, introduced the domestic purposes benefit, and stood against French nuclear testing in the Pacific.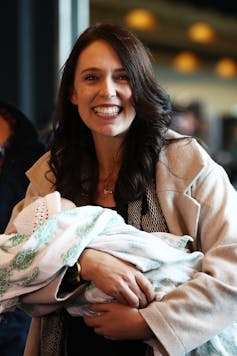 It's a high bar, but not unreasonable to make the case. Ardern broke through barriers for women, most notably giving birth to her daughter while she held office. She united the country after the mosque shootings, soothing what could have become a divisive moment. By listening to the scientific evidence and advice about COVID, she helped save countless lives.
Ardern will undoubtedly be remembered as one of Aotearoa New Zealand's outstanding prime ministers. This may not be for reasons of her choosing, though. Once the disaster management is accounted for, there are no major lasting achievements for which her government will be cited in the history books.
What will be remembered is Ardern's exemplary and highly effective leadership through COVID. Yet there is no "kind" pathway through an unkind pandemic. Nevertheless, Jacinda Ardern is owed gratitude for all that she did – and acknowledgement of all she had to endure – to get her nation through it.
Grant Duncan, Associate Professor, School of People, Environment and Planning, Massey University
This article is republished from The Conversation under a Creative Commons license. Read the original article.